Reikiでhealthy、happy。Hypnotherapyで自分の映像を見てrelax.NZに住んでるから英語でBlog。頑張っています。 Link先 WWW.kikuartfashions.co.nz
[ **Daily** ]
A lot of fish again.
2014年10月30日(木曜日)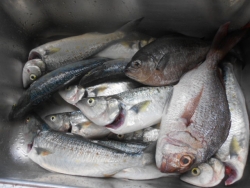 I could a big snapper & KAWAI SASHIMI.

If Japan, I may not order these sashimi.

Because they are so expensive.

I eat with gratitude to my friend & fish.

In japanese "ARIGATO-GOZAIMASU!!!"
Feeling was good!!
スポンサーサイト
[ **Daily** ]
I caught a big fish!!
2014年10月29日(水曜日)
This fish is called Kawai.

My feeling was shaking when my rod was pulled by something.

It is a big Kawai.

How did I eat it?

SASHIMI.

Ohw!

I eat deliciously.

On 3rd. Nov. 2014 Monthly Music club
2014年10月28日(火曜日)
Gather!! To Ruakaka Musick centre.

On 3rd. Nov. 2014

From 7pm to 10pm with a cup of tea time.

As well as, let's have enjoy singing & singing with Music club.

Contact is 027 715 2121to Noriko
I am eating every day.
2014年10月16日(木曜日)
Home made Yoghurt & Veges from my garden.

About six years more ago, my friend Elena gave me.

She said this is not Rosian style,  and anyway, Noriko style yoghurt.

Nice tast.

Every day I eat with my home made sweet jan.


Green coler is fresh veges, and I got from my pot in my garden.

I use then to make OKONOMIYAKI everyday.


Next Sunday, at Sunday market day, 

I will sell it, called NINJYA-OKONOMIYAKI.

They are no used meats, as  healthy vegetalian food.

Veges are from my garden. 

No chemical & using Bokashi compost.


My phylosopy is;

To be a good health needs good balance of body, mind & food.

So, I will sell healing energy & vegetalian foods.

I wander, many people like then?

[ **Daily** ]
knives
2014年10月16日(木曜日)
 My friend made them. His Family name is Smith.

Smith means, forinstance to make knives. So, he likes to make knives, he said.


Good oppotunity to know about each knife.
In Japan, we belong a small knife into weding Kimono costume.
It means for protection.
I wonder nowadays is desappeared from Japan culture?

From the Wikipedia;
The knife plays a significant role in some cultures through ritual and superstition,
as the knife was an essential tool for survival since early man.[2]


Knife symbols can be found in various cultures to symbolize all stages of life;
for example, a knife placed under the bed while giving birth is said to ease the pain, or,
stuck into the headboard of a cradle, to protect the baby;[19][20]
knives were included in some Anglo-Saxon burial rites,
so the dead would not be defenseless in the next world.[21][22][23]


The knife plays an important role in some initiation rites,
and many cultures perform rituals with a variety of knives,
including the ceremonial sacrifices of animals.[24] Samurai warriors,
as part of bushido, could perform ritual suicide, or seppuku,
with a tantō, a common Japanese knife.[25]
An athame, a ceremonial knife, is used in Wicca and derived forms of neopagan witchcraft.[26][27]


In Greece, a black-handled knife placed under the pillow is used
to keep away nightmares.[28]
As early as 1646 reference is made to a superstition of laying a knife
across another piece of cutlery being a sign of witchcraft.[29]
A common belief is that if a knife is given as a gift,
the relationship of the giver and recipient will be severed.
Something such as a small coin, dove or
a valuable item is exchanged for the gift, rendering "payment."[20]


Meditation class
2014年10月16日(木曜日)
class.
               Meditation Morning class.
                             Every Wednesday
                                At 10:30am
                  When finished, a cup of Japanese tea.
                   Fee is $7.50. Buy tickets from Noriko.
                        At Recreation Centre First floor.
                   Sit down on the floor with own mat.
                 Take your blanket or sit on chair, please.
 
Please see my web "Welcome Meditation pages!"

Add on your calender "Meditation day" as your family event. 

Go to more detail, web site, Meditation.



Why I am interested in singing?
2014年10月14日(火曜日)
By w
hat I was started on singing a song? Answer is, it is Kundalini Yoga.

When I chant Yoga mantra, my voice power is coming up from my tummy.

If I sing a song, what is happen, I wonder?

So, I started to sing a songs and I belonged a music club.

Kundalini Yoga mantras gave me chances to sing songs.

Now I am interested in singing with my ukulele.
Music club is:

Once a month, the first Monday night.

At 7 - 10 pm.

At Recreation Centre.

Gather interested in music person, please.

We need more member.

This club is friendly.

Progress & Keep up with K-Yoga !!
2014年10月09日(木曜日)
On 6th Oct 2014 Monday Gentle Yoga class.

After Yoga, we had Lemon-therapy for feet

with a cup of Yogi tea.

We had a friendly time.


Good news !!

One of my students, who could not rocking chair pose.

Today she could do it.

Little by little my students progress to flexible of body

through keeping up class.


Feeling good.

It means "SAT NAM of I can do & I could do"

Mantra effect to action.

GOOD!!

My blog
2014年10月07日(火曜日)
YUU is waiting into my car while I am teaching in class. He is a nice boy.
Since I started to write in English on my this blog, it have been four month more.

I am surprised with my self that I could write in English as newsletter for my class.

However, it is not easy to write off for me.

Recently, my editing of English became a little bit faster than four months ago.

I will keep up!!


On 19th & 27th are Market day.
2014年10月05日(日曜日)
My pet
Yuu joined my booth as healing dog. He was a charmer.
September Sunday Market was
42 booths involved in Sunday market.
Even whether was not so good.
October is two times market:

On 19th, third Sunday at 9am to 1pm.

On 27th Monday Labour day at 9am to 1pm.

My booth is Reiki Healing & short meditation.

Also, I will sell "OKONOMIYAKI"

Please check my booth.

Everybody welcome to my booth!!

More students power!
2014年10月05日(日曜日)
At Ruakaka recreation centre,
I have two Yoga classes & a Meditation class.
The center is so nice room condition and a nice out side view.
After class, we have a cup of Yogi tea.
My class are friendly.
Join my classes.
Thank you for reading.
Noriko.