Reikiでhealthy、happy。Hypnotherapyで自分の映像を見てrelax.NZに住んでるから英語でBlog。頑張っています。 Link先 WWW.kikuartfashions.co.nz
One of my notion.
2014年12月27日(土曜日)
He is watching his life?
We can not decide our life by own self.
However, our life is created with effort.
So, some times it annoyed us to think what should we do my life.
Then, do not worry, do not fear, do not be depressed.
Look trees, flowers, feel windy, and watch nature of all.
You could find out something from nature of all.
Even it is a tiny point, let's go with effort.
The nature will guide a comfortable life.
We will be able to find out our life.
I have a notion that life is appeared with effort.
I wonder my English is clear?
スポンサーサイト
[ **Daily** ]
From my old pen friend.
2014年12月26日(金曜日)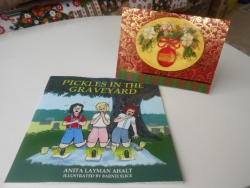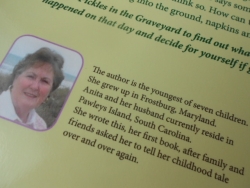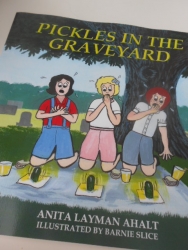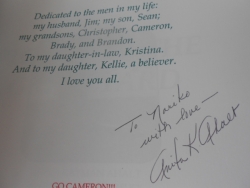 I got one post mail from America.
Thank you Anita for your Chrismas present & card !!
I am happy my 2014 year Chrismas memory was increased.
When I started junior high school 1st year, means I was 12 years old,
my English teacher introduced to me Anita who was living in US.
After that we became a good friend, and also my daughter became friend with her family and as one of her family.
Thank you again!!
[ **Daily** ]
Happy Christmas time.
2014年12月25日(木曜日)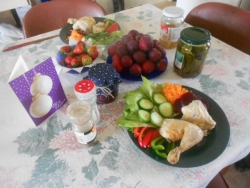 Happy lunch time was chicken. Dinner was pork sandwich.
Am I vegetarian?
Since I moved in One Tree Point, I had Christmas meal with my friend.
I knew quite a lot of peoples in NZ who had no good memory on Christmas.
It seems they had not an enjoyable Christmas time through their past experience.
I would like to keep a good memory on Christmas day.
When it comes Christmas day of next year,
I would like to remember 2014 Christmas day was enjoying.
Today it was a nice Christmas day.
Also my friend said so.
It was Very Very Happy Christmas day.
[ **Daily** ]
Thank you !!
2014年12月25日(木曜日)
Yesterday I got a parcel from Japan.
She sent me a lot of Japanese food & a calendar.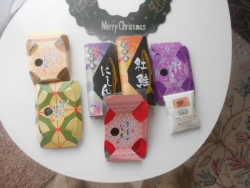 It is a worm heart parcel.
Like my mother.
But she is younger than me.
By the contrast, I did not any present for her.
I have to learn worm heart from her, haven't I?
Anyway, today is Christmas day.
I will have with enjoyable feeling.
[ **Daily** ]
About my 2014 year.
2014年12月24日(水曜日)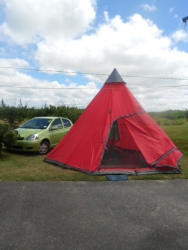 21st/Dec. I was going to stay in tent, but .....

I took pictures on 24th/Dec. Yuu is cute, isn't he? I pushed pose to Yuu.
In 2014 is not my year.
70% of 2014 was so hard life, I felt so.
Hard life, but I could have many opportunity to sight myself though my mind.
Most sad experience was not to be able to join Marsden cove Sunday markets of December.
The reason were Possum problem.
My feeling is so sorry, and my tears flowed out with disappointment.
This red tent, my friend prepared for me whom I could not sleep by possum problem.
But, I could go back home with my decision without sleeping.
And, at last I could stay at my place now.
30% of 2014 year was good memory.
After move to new place, I had bill or fee problems of the vodaphone, the meridian, AA of car.
They were arisen from my poor English.
It took for around three month to solve.
Though I needed effort with a lot of energy, it was accomplishment.
I win pleasure.
It passed me quickly as same as windy.
I hope next year 2015 might be filled with happy with my family and all friends.
I wonder my English is OK?
[ **Daily** ]
Noriko's present is "Two H & S".
2014年12月21日(日曜日)
            To all my friends & my family
Merry Christmas & A Happy New Year 2015!!

           My favorite word, Two H & S.
           "Healthy, Happy & Smile face."

I used many times in my Yoga class & Meditation class.
                      "Two H & S".

I would like to give to everybody "Two H & S"  for 2015.



To clients, "Merry Christmas & Happy New year 2015"
2014年12月19日(金曜日)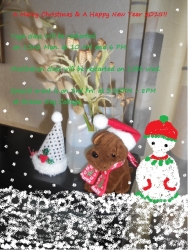 A Merry Christmas & A Happy New Year 2015!!!
2015 year!
I will welcome everybody to my classes & Reiki Healing event.

On 3rd Monday January 2015,
Morning Gentle Yoga class at 10 am.
Evening Genki Yoga class at 6 pm.

On 15th Wednesday January 2015,
Morning Easy Meditation class at 10:30 am.

On 3rd Friday January 2015,
Event "the Twilight Fun-Fest"
at Bream Bay College, 3:30pm - 8:00pm.
My space is Reiki Healing & takeaway the OKONOMI-YAKI.

Please come over with your friends & family.

[ **Daily** ]
Nightmarish & Love.
2014年12月14日(日曜日)
 This is possum, too.
When I was panicked by a death possum, time to time I had meditation.

But I couldn't find out answers.

Monday was Yoga class.

I was walking to go to Recreation center YOGA room.

Suddenly I heard "How are you?" 

When my eyes cought friend's eyes,  my tighter feeling was thaw.

My tear flew and flew without shame.

Yoga students, recreation officers,

everybody gave me dividual idea about possums.

Also, Wiston of English supporter showed me his empty rooms.

"Anytime use these room, please", he said to me.


This possum problem gave me human love.

And I was born up by love of many people.

Since I moved in One Tree Point from CHCH, I could not feel friendly enviroment.

I could find out it through a possum problem.

And I see to be love, also to be loved.


[ **Daily** ]
What do I learn from possum?
2014年12月13日(土曜日)
 A cute possum.
Day by day, strong smell & maggots are getting well.
Everyday he clean up my rooms.
I am waiting at outside.
I was filled by a lot of feeling of gratitude to my friend,
"Thank you, Garry". 
We used the Bombs for clean up into house.
I did not know the spray was selling at shop.
The bomb spray diffused chemicals to whole air of my house.
I don't like chemical spray, though.
I have to stay my friend house with YUU for a while.
He agreed about an accidental situation.
This accidental situation gave me a big depression.
Why did I get "a dead possum" on my house?
I beleave "cause and effect".
Our old saing "As a man sows, so shall he reap".
What did I do?
What would nature like to say to me?
[ **Daily** ]
Big problem from one possum.
2014年12月13日(土曜日)
Possum? cute, isn't it?

My friend climbed up into attic.

My attic was so narrow & no right facility.

For a moment, he came down wirh a big nylon bag.

And he buried it.

Again he entered in my house, and he cleaned my roomes for two hours more.


After it was finished, I sent text to my landlady who is living in Auckland.

Her answer was "I had holidays. Tell to agent".

I visited my agent office.



Landlady & the agent know possums come in my atti since I moved here.

But they might not think animals die on the ceiling.



Anyway, I did not any answer from them.

They are not  human, I wonder?

They need only money?
[ **Daily** ]
One possum
2014年12月13日(土曜日)
 Is this a possum? cute, isn't it? 
Last week I had a big problen, though you dont think not big.

What?

A possum died in my attic.

I remember I noticed something bad smell from somewhere in my house.

Some times Yuu sniffed on aire.

I didn't have any idea of that.
But I found out some worms.

"Wha?, here and there in my house". Wha is my Japanese sound.

"Gew...!  they are a lot of maggots". Gew is my Japanese sound.

"Don't come here, and stay there". I said to YUU by my panic.

Soon I contacted my friend.

He run to my place.
I said instinctively, "look!!" with my indexfinger.

Friend said, "one possum must  die on the ceiling".

And He said, "Noriko go out!".
Soon he climed up to the ceiling.


I do not want to write about this shocking news.
Because I don't want remember smell & maggets.
Though, this is a good English lesson to pxplain & to describe the situation vividly.
So, I will write more.
If you are an interested in my English, please read more.