Reikiでhealthy、happy。Hypnotherapyで自分の映像を見てrelax.NZに住んでるから英語でBlog。頑張っています。 Link先 WWW.kikuartfashions.co.nz
[ **Daily** ]
I like simple cooking.
2015年06月25日(木曜日)
Sliced Kumura & apple
Tonight my desert was this one.
Sliced a kumura & an apple were cooked using fly-pan.
So simple taste.
No add sugar, no salt & any others.
Especially in winter season, when I eat apples, I feel cold.
However, after apples cooked, my feeling is very good.
I eat a desert with reading a magazine.
My feeling relaxed.
スポンサーサイト
[ **Cooking** ]
Do you know the Watercress?
2015年06月24日(水曜日)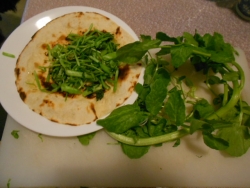 This vegetable is called watercress.
I bought Maori Hungi shop in Whangarei city.
Shop owner said, it is for salad or steam.
Watercress is my first experience taste for vegetable.
Watercress is growing into beautiful clean water, I heard.
Taste is like radish.
My feeling salad was......NO.
Boiling was..... very good!!
Watercress was a little bit expensive.
[ **Daily** ]
Fire?
2015年06月23日(火曜日)
2, 3 days ago,
It was about 6:30 am.
As usually I woke up, and I opened door.
Wha~~~!!!
It was so nice color.
Like fire.
I did morning Yoga toward this morning glow.
My feeling was a very nice.
[ **Cooking** ]
My delicious foods.
2015年06月23日(火曜日)
I am making OKONOMI-YAKI most every day. I like it.
My friend often makes vegetalian sandwich for lunch. It is fresh, healthy & good taste. Thank you for lunch.
TAMALIN fruet or vegetable, I do not know. I like it. it is a little but sower taste.
Named "TAKO" in Japanese. Recently TAKO , octopus were growing more than summer season. We found them in Waipu Cove beach as usually. We pray to nature, and we eat one of them with boiling. Thank you for nature. It was delicious.
[ **Cooking** ]
Cooking for kids
2015年06月13日(土曜日)
Cooking book for kids.
O~, there are a lot of menu.
They are simple cooking without herb.
Adult cooking is too much salt, sugar, butter, oil and others.
Take care of our health with cooking way.
[ **Daily** ]
Everybody "Thank you for my birthday message!!".
2015年06月09日(火曜日)
I got happy birthday messages from friends through Facebook.
To everybody "Thank you".
So I was glad!!
I cooked "red rice" using kidney beans can for my birth day.
Red rice means "suspiciousness" or "lucky" in Japan.
I am satisfied this cooking with my birthday.
Also, my friend a present of battery power torch set.
Since my experiences of earthquakes, I would like to get good torch.
At last I got it from birthday present of Gary.
Gary "Thank you!".
[ **Daily** ]
House warm Friend ship
2015年06月04日(木曜日)
Ruakaka Beach.
I moved new place on 19/May/2015.
I would like to have the house warm friendship at
New place
.
New place is 60 Bream Bay Drive.
House warming Friendship date: On 19th June.
It passed just one month.
Time: 11am to 13:30pm Free.
I will have it at out side. I hope whether is fine.
Please take simple food a little bit.
Please take your soup bowl & two tea cups as I can not open my box.
I will cook Japanese style "mixed red beans rice" food & scallop seaweed soup.
Also, I am going to do Yoga meditation time from 11 am to 11:30 am.
Please join this my plan.
I am glad if you tell by text your attendance by 16th/June
Please tell your participation for it by text or e-mail
Please add this friendship on your calendar.
Noriko