Reikiでhealthy、happy。Hypnotherapyで自分の映像を見てrelax.NZに住んでるから英語でBlog。頑張っています。 Link先 WWW.kikuartfashions.co.nz
[ **Daily** ]
Halloween party.
2015年10月31日(土曜日)
I joined the halloween party on 31/Nov/2015.
Ticket fee was $50.
I felt it is a expensive ticket.
But I may join it last chance in Ruakaka.
WHA!!! I was surprised everybody's interesting costume.
Also, Foods. It was oily meet, though I can not say with big voice.
I knew reason why KIWI's body became big.
It was a nice experience for me.
Do you know me, from what photo?
Wha ha ha!!
スポンサーサイト
[ **Daily** ]
I am fine.
2015年10月18日(日曜日)
At Waipu Cove. Yuu likes waves. He might feel "what is this, I wonder?
High tide was coming. What was a nice nature view!
I made dry meet for Yuu's treat food. It spend a long time & cost was high. But it is real meat though.
Duddings park. I spent a few days with camping for looking houses in Marton. At all, I could not find an interested house. I felt so tiredness.
All around field. There was a lot of sheep. Peaceful & calm.
At Rotorua. Feeling is just spring season.
At Ruakaka near my house. A beautiful cherry blossom. I took a picture with deep feeling.
I had a sadness feeling with this sight. this car was my friend used for long time. Now his car soled and will be destroyed by a machine. I remember Yoga Meditation of Sa Ta Na Ma. Infinitive, Birth, Death & recycle.
My car. It is a nice car.
Loquat. According my dictionary, name is Japanese medlar. This is Japanese fruts? I did not.
I made pickle of Loquats with sweet vinegar. Success or ...?
Taupo lake. Big lake.
Early morning view of Taupo. It was so calm & peaceful.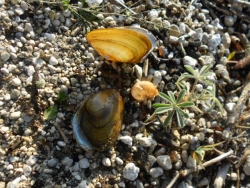 I did not know mastles(Spell?) shells are alive in the lake, not sea.