Reikiでhealthy、happy。Hypnotherapyで自分の映像を見てrelax.NZに住んでるから英語でBlog。頑張っています。 Link先 WWW.kikuartfashions.co.nz
To clients, "Merry Christmas & Happy New year 2015"
2014年12月19日(金曜日)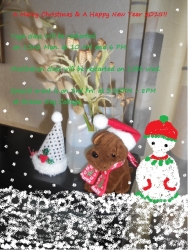 A Merry Christmas & A Happy New Year 2015!!!
2015 year!
I will welcome everybody to my classes & Reiki Healing event.

On 3rd Monday January 2015,
Morning Gentle Yoga class at 10 am.
Evening Genki Yoga class at 6 pm.

On 15th Wednesday January 2015,
Morning Easy Meditation class at 10:30 am.

On 3rd Friday January 2015,
Event "the Twilight Fun-Fest"
at Bream Bay College, 3:30pm - 8:00pm.
My space is Reiki Healing & takeaway the OKONOMI-YAKI.

Please come over with your friends & family.

関連記事
トラックバックURL