Reikiでhealthy、happy。Hypnotherapyで自分の映像を見てrelax.NZに住んでるから英語でBlog。頑張っています。 Link先 WWW.kikuartfashions.co.nz
[ **Daily** ]
About my 2014 year.
2014年12月24日(水曜日)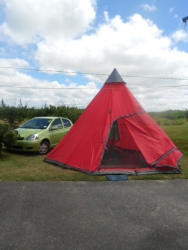 21st/Dec. I was going to stay in tent, but .....

I took pictures on 24th/Dec. Yuu is cute, isn't he? I pushed pose to Yuu.
In 2014 is not my year.
70% of 2014 was so hard life, I felt so.
Hard life, but I could have many opportunity to sight myself though my mind.
Most sad experience was not to be able to join Marsden cove Sunday markets of December.
The reason were Possum problem.
My feeling is so sorry, and my tears flowed out with disappointment.
This red tent, my friend prepared for me whom I could not sleep by possum problem.
But, I could go back home with my decision without sleeping.
And, at last I could stay at my place now.
30% of 2014 year was good memory.
After move to new place, I had bill or fee problems of the vodaphone, the meridian, AA of car.
They were arisen from my poor English.
It took for around three month to solve.
Though I needed effort with a lot of energy, it was accomplishment.
I win pleasure.
It passed me quickly as same as windy.
I hope next year 2015 might be filled with happy with my family and all friends.
I wonder my English is OK?
関連記事
トラックバックURL