Reikiでhealthy、happy。Hypnotherapyで自分の映像を見てrelax.NZに住んでるから英語でBlog。頑張っています。 Link先 WWW.kikuartfashions.co.nz
[ **Daily** ]
Thank you !!
2014年12月25日(木曜日)
Yesterday I got a parcel from Japan.
She sent me a lot of Japanese food & a calendar.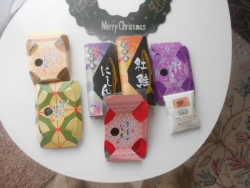 It is a worm heart parcel.
Like my mother.
But she is younger than me.
By the contrast, I did not any present for her.
I have to learn worm heart from her, haven't I?
Anyway, today is Christmas day.
I will have with enjoyable feeling.
関連記事
トラックバックURL