Reikiでhealthy、happy。Hypnotherapyで自分の映像を見てrelax.NZに住んでるから英語でBlog。頑張っています。 Link先 WWW.kikuartfashions.co.nz
[ **Daily** ]
Happy Christmas time.
2014年12月25日(木曜日)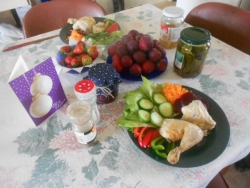 Happy lunch time was chicken. Dinner was pork sandwich.
Am I vegetarian?
Since I moved in One Tree Point, I had Christmas meal with my friend.
I knew quite a lot of peoples in NZ who had no good memory on Christmas.
It seems they had not an enjoyable Christmas time through their past experience.
I would like to keep a good memory on Christmas day.
When it comes Christmas day of next year,
I would like to remember 2014 Christmas day was enjoying.
Today it was a nice Christmas day.
Also my friend said so.
It was Very Very Happy Christmas day.
関連記事
トラックバックURL