Reikiでhealthy、happy。Hypnotherapyで自分の映像を見てrelax.NZに住んでるから英語でBlog。頑張っています。 Link先 WWW.kikuartfashions.co.nz
[ **Daily** ]
HOBBITON in Matamata
2015年11月06日(金曜日)
These story was on 23rd/Oct.
The day passed quickly.
However, I can not forget the HOBBITTON trip with my daughter.
All around is HOBBITON movie set.
They are maintained well for sightseeing.
As if it seems wonderland.
Hi Eiko, it was a good trip, wasn't it?
The cost was expensive, but it was a good value.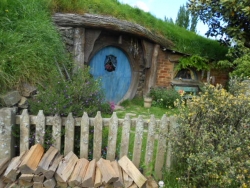 関連記事
トラックバックURL